Emerging from the Bethnal Green tube stop, one might feel as if they had got off in Harlem instead of London.   Sad, 1960s buildings line the street, with even sadder storefronts: quality car store, low-price tyres, off license city supermarket, City Chic.
It in the middle of this neglected street is Bethnal Green's old Town Hall, unassuming, yet stately.  This 1910 Edwardian structure was built at the height of British power.  No expense was spared in its construction.  The finest materials were used, the best artisans contracted.  Its marble columns, sweeping staircase, and exquisite plasterwork all make a statement: this is England, this is the Empire.
After the Town Hall closed its doors in 1993, it sat there neglected and decorating like the buildings around it.  Now, however, it is a ray of sunshine on this cloudy street.
After a £17 million renovation, the Town Hall Hotel and Apartments opened its doors in April 2010.  The Town Hall in Bethnal Green was transformed from a shabby, redundant government building, into a chic, luxury hotel. From the beginning, Peng Loh, the owner of this and a string of other hotels, wanted this project to produce something that would be around for a long time, not something that would just be open for 5 years and then close and be turned into something else.  After much debate and ho-humming on what to do with the building, the design duo of Michael de Costa Gonçalves and Natalie Rozencwajg from Rare Architects jumped at the chance to breathe new life into this forlorn Grade II listed building.  The result is a successful combination of Edwardian, Art Deco, and contemporary architecture which seem perfectly at ease with one another.
This successful amalgamation of differing architectural styles can be attributed largely to the great attention to detail in integrating the past with the present.  Gonçalves and Rozencwajg combed through the archives of the Town Hall to incorporate as many of the historical elements into the design of the new hotel as possible.  A common element repeated throughout the building is a square, geometric pattern taken from an original Art Deco ventilation grille.  This pattern is a common language which brings together old and new, traditional and modern, formal and casual.  The Town Hall Hotel is a classic cocktail with a modern twist, an Old Fashioned with Chambard and a grapefruit rind.
The upper storey extension to the Town Hall is clad in brushed, laser-cut aluminum, repeating the Art Deco grille pattern.  This modern screen acts like a veil, concealing the new edition, giving privacy to the occupants, yet still allowIng for daylight to percolate through the geometric openings.  From the inside looking out, the screen accentuates positive features, whilst obscuring less desirable ones, such as a hideous apartment complex to the south.
Bethnal Green Town Hall is on the edge of a budding cultural and artistic Renaissance developing in the nearby boroughs of Spitalfields and Hoxton.  With their aesthetic and historic sensibilities, it is no surprise that Peng Loh and The Town Hall Hotel has also looked to the past to carry on the tradition of commissioning artists to produce site-specific artworks for the hotel's interior spaces.
The curated commissions chosen this year come from the brightest and most talented artists Bethnal Green had to offer.  It is also a nod to the tradition of the original builders of the Town Hall who commissioned the best artists and sculptors in the area to create pieces of art for the building.   In fact, the Town Hall has retained many of the original artworks, including a statue of Justice by Henry Poole.
The selected artists' works complement the overall feeling of the hotel: a temporary refuge from everyday life, a place of solace and luxury, a step into another world.  These art pieces expound on the pleasures of life, an escape into the fantastic, a remembrance of things past.  These works are on display in the foyer, stairwells, restaurant, bar, hallways, banqueting rooms, a showcase of the talented artists living in London's Avant-Garde East End.  These artworks are also links to the Town Hall's historic past.  The selected artists for this year are:
Bálint Bolygó

Debbie Lawson

Zoë Mendleson

Claire Morgan

Walkwalkwalk
The success of this hotel and the art commissions can be attributed to many factors, both subtle and obvious, some of which can be applied to other regeneration projects, not just to Town Halls.  A common thread all of the pieces share is their relationship to the Town Hall's past, be it an object, a story, an experience, or the building itself.  This union of old and new, of living in harmony with one another, is one of the main reason why this project as a whole is so successful.
THE ARTISTS
Claire Morgan, whose work usually incorporates nature and taxidermy, looked to the materials of the building for inspiration.  She created a leafy chandelier which hangs in a stairwell. A taxidermy owl perches amongst the foliage.  The leaves have been laid out in a painstakingly precise cubic pattern, an element present in much of her work.  The combination of natural elements and scientific exactness gives this piece a whimsical feel, in what might otherwise be an overly serious work.  Morgan "wanted to create a work that [drew] out the history of the architectural materials and decorations in a tangible way, that [was] both secret and bold…[She thought] about what the wood was before it became latticed panels or what plants the mouldings illustrate[d], and environments these might have existed within."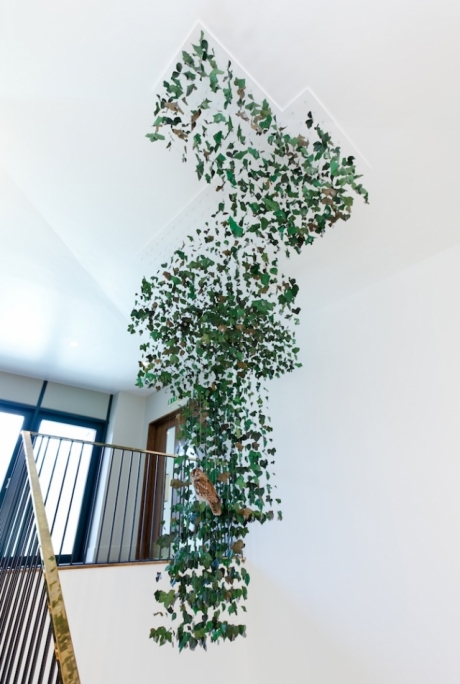 Debbie Lawson is inspired by the drama of the events that take place within interior spaces.  She commonly uses carpet, wood, and other common domestic materials.  For Town Hall Hotel, she created two pieces, Persian Moose, a moose-head wall hanging made from antique Shiraz carpets , and Love Lane, Victorian porn vignettes in marquetry line a small hallway, an homage to Bethnal Green's shady past as a hub for prostitution and other social services.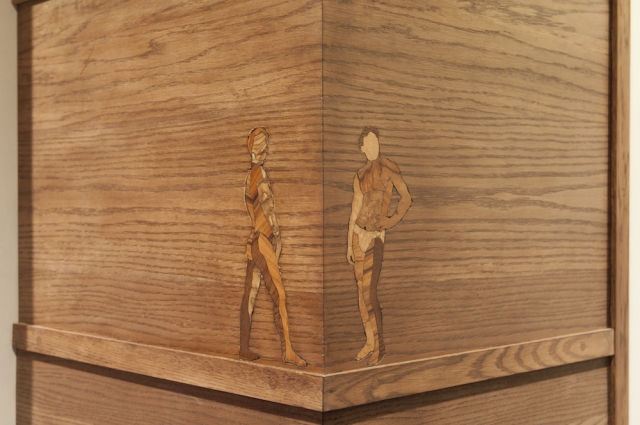 Bálint Bolygó combines sculpture and installation, movement and perception, the natural with the artificial.  His work, Aurora, is in a long room adjacent to the Council Chamber, a space often used for parties and entertaining.  Aurora is a combination of northern lights and the discotek, a spectacle of colored lights and mirrors where no two moments are ever the same.  The installation uses the architectural features of the room to create an ethereal experience.
Zoë Mendleson is a mixed media artist, interested in architecture, form, function, and psychological space.  A common theme in her work is an exploration of compulsion, distortions, and imbalances in spaces as well as people.  In her piece, Safecarder, Mendleson has taken an old safe from the original Town Hall and turned it into a giant light box, illuminating a collage of clutter, architecture, and collecting.  On the surface, her collage is organized and rational, but upon closer inspection, it is a chaotic mess of disorder and confusion.
Walkwalkwalk are Gail Burton, Clare Qualmann and Serena Korda. Their routine walks around the East End inspire and influence much of their work.  Walkwalkwalk strive to uncover the beauty in everyday objects, things which are ignored or taken for granted, and then turn them into written works, both large and small, about discovery and narrative.   These true stories are being integrated into the stories of the visitors and residents of the hotel, creating new narratives and experiences which inspire their future work.
Bethnal Green's Town Hall could have met the fate that many redundant town halls do in London: neglected eyesores that can't' be torn down.  The success of the Town Hall Hotel and Apartments is not because it had a £17 million makeover – money can't buy taste – but because the project had a vision, a desire to connect the past with the present, to look to the building for inspiration and integrate these findings into the design, the culture, and the commissioned artworks.  This strategy can be implemented to any adaptive reuse scheme on any sort of budget.  It a matter of one's mindset, not one's bank account.
Exploring the hotel it becomes clear that there is not just an alliance of expensive taste and theoretical thinking, but a thorough piece of design seen through with steady hands, and an ability to create spaces people respond to.
– RIBA JOURNAL
RECOMMENDATIONS:
BIBLIOGRAPHY

ArtsAdmin.com.  Arts Admin. 8 February 1998.  Web.  9 December 2011 <http://www.artsadmin.co.uk/>.
Fulcher, Merlin. "Rare Architects Transforms Town Hall with Laser-cut Aluminum Skin; Architects: Michel da Costa Goncalves and Nathalie Rozencwajg." Architect's Journal 6 May 2010: 6. Print.
Holloway, Ruthie.  "Rare Architecture Wins Awards for Town Hall Hotel."  GlassMagazine.co.uk.  Glass Magazine,  n.d. Web. 9 December 2010 <http://www.glassmagazine.co.uk/forum/blog_post.asp?TID=3549>.
Obe, Iwana Blazwick. Town Hall Hotel.com.  Town Hall Hotel and Apartments. 7   February 2011. Web.  9 December 2011 <http://townhallhotel.com/index.php/art/>.
Peaman, Hugh. "Shapeshifters: Changing Practices for Changing Times."  RIBA Journal June 2010: 5-7, 24-48. Print.
Shalam, Sally. "Hotel Reviews; Town Hall, London." The Guardian, Guardian News and Media Limited, 31 July 2010. Web.  10 December 2011 <http://www.guardi an.co.uk/travel/2010/jul/31/hotel-review-town-hall-london>.
"Town Hall Hotel and Apartments,"  Architecture.com.  RIBA. n.d. Web.  10 December 2010 <http://www.architecture.com/Awards/RIBAAwards/Win ners2011/London/TownHallHotelApartments/TownHallandApartmentsexterior.aspx>.