Green roofs are catching on in New York.  It is no surprise that is the people who are leading the movement.   In the words of Margaret Mead, "Never doubt that a small group of thoughtful, committed citizens can change the world. Indeed, it is the only thing that ever has."
Friday, I had the unique opportunity to visit the extensive green roof atop the Linda Tool and Die Corporation in Brooklyn.  The tour was lead by Paul Mankiewicz, president of the Gaia Institute, an non-profit organisation dedicated to green roofs.  Paul designed the roof for Linda  Tool and Die Corp. to lower its heating and cooling costs. As a manufacturer of metal, it is very important that the interior temperature remain around 72 degrees year round – which is very expensive.
Green roofs are amazing insulators, keeping buildings cooler in the summer and warmer in the winter.   After the installation of the green roof, Linda Tool and Die has decreased its heating and cooling costs by 1/3.
All of the plants chosen for this project are native to the area, including Alfalfa, Mulberry, Virginia Creeper, and Bella Dona.  Plant choices are a combination of wetland and desert plants, encouraging biodiversity and native wildlife to come and visit the roof garden.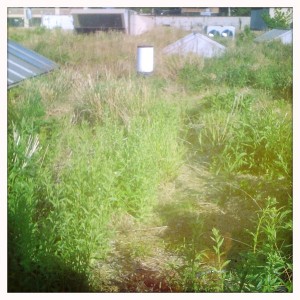 Extensive roof garden atop the Linda Tool and Die Company's industrial roof has reduce the company's heating and cooling bill by about 1/3. Photo ©Heather Shimmin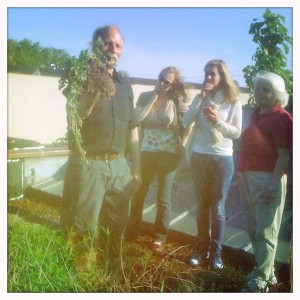 Paul Mankiewicz, founder of the Gaia Soil Institute and inventor of Gaia Soil and Inger Yancy, Owner of Brooklyn Green Roof, talk about the types of plants used and issues the roof has had such as birds dropping seeds from other plants onto the roof.  Photo ©Heather Shimmin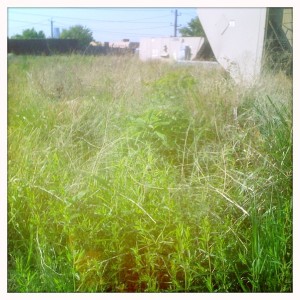 Lush grasses give the effect that one is standing in a meadow in the middle of Brooklyn. Photo ©Heather Shimmin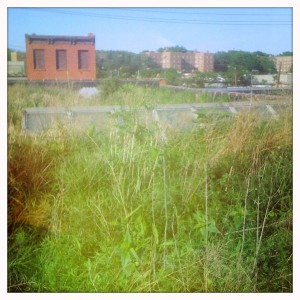 A glimpse of Red Hook, Brooklyn from the green roof.  Photo ©Heather Shimmin
LEARN MORE ABOUT GREEN ROOFS