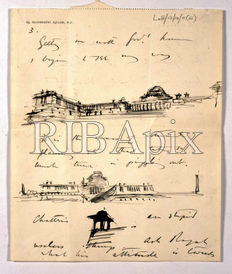 Sketch of the Viceroy House in New Delhi by Edwin Lutyens
MAKER: Sir Edwin Landseer Lutyens (1869-1944)
TITLE: Viceroy's House, New Delhi: sketches in a letter by Sir Edwin Lutyens to his wife, Lady Emily: Preliminary Design, Viceroy House, New Delhi, India
VIEW: Top Drawing: Perspective Drawing, exterior, looking east at elevation Middle Drawing: Perspective Drawing, exterior, south elevation looking north Bottom Drawing: Detail Drawing of pith-helmut chattris
DATE: 1913
MEDIUM AND SUPPORT: Ink on paper
SIZE: 21.5 cm x 17.5 cm
TEXT: Getting on with Government House and beginning to see my way. It is the mass of internal planning, etc. that takes so much in puzzling it out.
Chattris are stupid useless things.
REFERENCE NO: RIBA3119-39
The Story Behind Lutyens' Sketch of the Viceroy House
Sir Edwin Landseer Lutyens and his wife, Emily Lyttons, had an odd relationship. After reading the mountain of letters they wrote to each other, one would think they were madly in love, counting the days until they were together again. Though both were infatuated with the idea of what the other represented, neither could live up to the other's expectations. Both found what they were lacking elsewhere; Lutyens in his work, Emily in Krishna.
Edwin Lutyens, known to many as Ned, was the 10th of 13 children. He was a sickly child and spent little time attending public schools, although that may be due to a lack of money than to illness. Lutyens would spend his days riding his bicycle around Surrey, looking at houses, observing the builders, sketching with soap on a pane of glass. He enrolled in architectural school at 16 but dropped out two years later to join the office of Ernest George.
During his time with Ernest George, of whose architecture style Lutyens was not particularly keen, Lutyens met two key figures in his life: Gertrude Jekyll, garden designer and lifetime partner, and Herbert Baker, colleague-cum-rival.
At 19, he left George's office and opened his own practice. He did nothing but work. No sports, no socializing, no recreation. Architecture consumed him.
During this time, he designed Munstead Wood, a country house in Surrey. The overwhelming praise and acclaim put Lutyens on the radar as sought out residential architect and commissions rolled in that year – 25 in fact, more than his entire previous 6 years in working as an architect. It was in this landslide of work that Lutyens met Emily at a party in London in 1896.
She was 21; he was 27 and had been working as an architect for six years. He fell in love with her immediately. When he saw her from across the room, she looked quite sad and melancholy. He promptly made up his mind that it was up to him to "make her happy.1 " Ironically, the marriage would make neither of them happy – one of many ironies in their lives.
On 22 September 1896, Lutyens wrote his first letter to Emily. This quasi-love letter would be one of over 5,000 the two would write to each other over the course of their marriage. Astonishingly, Edwin and Emily could not speak to each other. As their daughter Mary put it, "talk did not flow between them." They made little effort in trying to change that fact. Dining alone, they would sit in silence, Lutyens working on a crossword puzzle in The Times, Emily reading a novel. But when they were apart it seems all the things they wouldn't, or couldn't, say to each other flowed from pen to page, as if a great veil were lifted from their souls.
Lutyens' letters were vivid and open. He would scrawl off a short note to Emily during dinner, on a train, or between appointments. His thoughts ran wild, making marks with his pen only slightly more legible than chicken scratches. He would often make his point with a sketch in the margin or on the envelope.
Lady Emily's letters, on the other hand, were much more literary (which is no surprise since she was an avid reader, whereas Lutyens never picked up a book). She wrote with a clear, elegant hand. Her "punctuation was as accurate as a Victorian novelist," succinct in giving advice, short and to the point.2
Emily and Edwin had starkly different personalities. She was quiet and shy, deeply religious, prone to melancholy for no apparent reason, and very antisocial. He was a gregarious schoolboy, childlike, and loved to tease. One evening, during their courtship, they went to dinner at Gertrude Jekyll's house. They made lamb chops, nibbled on sponge cake, and sipped homemade  elderflower cordial. Emily said it was heavenly, the most fun she had ever had. In this regard, they were good for each other; Edwin made life fun for her.3 They married in August 1897.
In 1911, King George V moved the Imperial capital of India from Calcutta to Delhi for political reasons. There was much unrest between the Hindu Bengal Nationalists and the Muslims over the division of the Bengal province in 1905. In 1912, Lutyens was called to serve on a Committee of Experts to advise the new Imperial Government of India on a suitable site for the new complex of government offices to be built in New Delhi. This was the beginning of Lutyens' connection with India that would last for 19 years.
There were myriad problems with the project but most can be classified into two categories: the location of the site and the architectural style of the complex. Lutyens fought tooth and nail to get his way on both fronts. The New Delhi project consumed him and corresponds with the decline of his marriage.
Lutyens visited India three times between 1912 and 1914, after which he spent his summers in England and his winters in India. Even before Lutyens was officially chosen to design Viceroy House, he saw himself as the architect of New Delhi, the saviour who would rescue the Indians from their random rubble clad in stone and marble.4
Even when Lutyens was home in England, his mind was intensely focused on New Delhi and the design of the Viceroy House. Lutyens hated Indian architecture. The more he learned about India, the less he liked it. He was an elitist, a racist, and thought that all Indians were uncivilized, smelly, dirty, and unable to govern themselves. He thought the Indian Indo-Saracenic style was "formless, not of carved decoration, an anathema…hardly qualified as architecture at all.5" Endless battles were fought between he and Viceroy Hardinge over architectural style: Lutyens wanted classical, the architecture of the Empire – Hardinge wanted elements of the Indian vernacular for political reasons.
When Lutyens came home from his second visit to India in March 1913, the budget had been cut and he had to reduce the size of Viceroy House from 13 to 8.5 million cubic feet. He was also struggling to create a design that would be an amalgam of East and West, the Indian vernacular with the British Empire. His mind was intently focused on his work so it is not surprising that his wife Emily packed up and left with the children to stay with Arthur Chapman in his damp, fungus-infested cottage in Norfolk only a few days after Lutyens' return.
Feeling completely ignored, isolated, and fed up with her workaholic husband, she left the children with Nannie and went off to spend the summer of 1913 with Krishna and his brother in Varengeville.
Over the previous months, Emily had developed a keen interest in theosophy and spirituality. Her spiritual advisor and mentor was a man called Krishna. Emily became obsessed with him; the attraction was both spiritual and physical. She would walk alone with Krishna after the theosophical meetings, hanging on his every word. Emily's diary entries appear to be an exercise in trying to convince herself that the attraction was purely a spiritual one:
11 August 1913
I woke with a feeling of intense peace and happiness and a remembrance of being with Krishna. The following afternoon, Krishna had told me that I had been with him the night before and asked me if I remembered !anything, and I felt happy.6
As if trying to justify her actions, to herself or to Lutyens, in a letter to her husband she tells him that his work has always meant more than she or the children. All the things that she had longed for in life, she has now found in Krishna. (If Lutyens read this as a fulfillment of her spiritual needs or her physical ones, we do not know.)
Emily's fixation on Krishna continued throughout the summer of 1913. She was living a lie and no doubt tormented with her situation. She was in love with another man and could not admit it, not to herself, certainly not to Lutyens.
| | |
| --- | --- |
| | |
| Front entrance to the Viceroy House, New Delhi | Detail of a Chatri, a reference to the local Mogul architecture, which Lutyens hated. |
She always suffered from migraines, but they grew more intense and more frequent during this period, holding her prisoner in a dark room for days at a time. Reflecting on the situation, Emily wrote, "I was never really happy away from Krishna. My husband, my home, my children faded into the background; Krishna became my entire life, and for the next ten years I suffered all the difficulties trying to sublimate a human love.7"
It was during this period of Emily's intense "spiritually" with Krishna and Lutyens struggle to design Viceroy House in a hybridization of East and West that Lutyens wrote a letter to Emily dated 16 September 1913 on his office stationary from 29 Bloomsbury Square. There are only a few scribbled sentences in the letter, punctuated with three illustrations of the progress he is making on Viceroy House. Lutyens has found a way to marry European Classicism with Indian idiom and is clearly excited to share his progress with Emily. The letter reads:
Getting on with Government House and beginning to see my way. It is the mass of internal planning, etc. that takes so much in puzzling it out.
Chattris8 are stupid useless things.
Lutyens had not written to her in over a fortnight, preoccupied with other thoughts. He is so consumed with New Delhi that he is somewhat oblivious to what is happening with his wife, Krishna, and Emily's unhappiness. Even so, it probably did not come as a complete surprise when, in the summer of 1914, Lutyens receives news from his wife that their physical relationship was over and was going to be living with Krishna. The blow was nonetheless devastating and Lutyens fell into a deep depression. He is so distraught, lonely and lost that he contemplates resigning from the New Delhi Project and abandoning Viceroy House altogether.
In 1944, after the death of Lutyens, Emily would sit and read his letters. In a letter to her daughter Ursula she wrote:
I begin to think it is really dangerous for me to let you read our letters, because I think you will end by disliking me as much as I dislike myself and won't that be awful! I am afraid I get worse and worse. Shall I stop sending [the letters]? But if they make you love Father more and more that is !all to the good. His letters have that effect on me.9
She seems to be seeing the past through an odd combination of 20/20 vision and rose-colored glasses, conflicting feelings she no doubt struggled with the rest of her life.
end notes
1. Perry & Ridley, The Letters of Edwin Lutyens to his Wife, Lady Emily," p. 11.
2. Perry & Ridley, The Letters of Edwin Lutyens to his Wife, Lady Emily," p. 4.
3. Perry & Ridley, The Letters of Edwin Lutyens to his Wife, Lady Emily," p. 12.
4. The Gates of Delhi.
5. Jane Ridley, The Architect and His Wife: A Life of Edwin Lutyens." p. 257.
6. Andrew Hopkins and Gavin Stamp, Lutyens Abroad: The work of Sir Edwin Lutyens Outside the British Isles, p. 190.
7. Jane Ridley, The Architect and His Wife: A Life of Edwin Lutyens, p. 235.
8. Chattris are domed-shaped pavilions and a common element of Indian architecture. The Raj believe Chattris represent pride and honor and are used often in memorials for kings and royalty.
9. Jane Ridley, The Architect and His Wife: A Life of Edwin Lutyens, p. 297.
RECOMMENDATIONS
bibliography
"Gates of Delhi." IndiaProfile.com. 2011. Ministry of Tourism, Government of India. Web. 3 December 2011 < http://www.indiaprofile.com/monuments-" temples/delhidarwazas.htm>.
Hopkins, Andrew and Gavin Stamp. Lutyens Abroad: The Work of Sir Edwin Lutyens Outside the British Isles. The British School at Rome: London, 2002. Print.
Munstead Wood House, 2008. SCDFAS. South Cambs DFAS. Web. December 2011. <http://www.southcambsdfas.com/page13.htm>.
Parris, Mathew. "Great Lives: Edwin Lutyens." Great Lives. 13 Sept. 2011. BBC Radio 4. 27 Nov. 2011 <http://downloads.bbc.co.uk/podcasts/radio4/greatlives/greatlives_20110913-1741b.mp3>.
Percy, Clayre and Jane Ridley, ed. The Letters of Edwin Lutyens to his Wife Lady ! Emily. Collins: London, 1985. Print.
Riddley, Jane. The Architect and His Wife: A Life of Edwin Lutyens." Chatto and Windus: London, 2002. Print.
"The New Delhi: The work of Sir Edwin Lutyens and Sir Herbert Baker." The Architectural Rview: A Magazine of Architecture and Decoration Vol LX. December (1927): p.67-73. Print.