Can Turtles Live on a Green Roof?
an experiment in biodiversity and microecosystems above the ground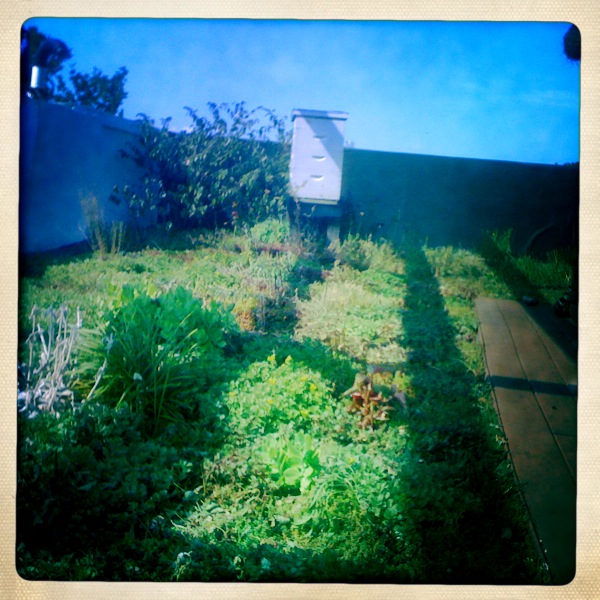 Sedum, native plants, and an apiary atop a roof in Brooklyn, NY.
Photo ©Heather Shimmin
Three stories above street level on 2nd Avenue in Brooklyn, NY, an experiment in the creation of a micro-ecology is taking place.  Drought-resistant plants, butterfly bushes, an apiary, and now a pair of Eastern Box Turtles have been added to the mix in hopes of creating more biodiversity in an increasingly mono-ecosystem, something which cities, especially dense, urban ones, are facing all over the world.  City government is planting hundreds of the same types of trees, non-indigenous species are pushing out indigenous ones, and Home Depot is supplying the same plants at all of its stores nationwide, so it is little wonder that cities are becoming less diverse in terms of plant life.
In order to combat this issues, Eco Brooklyn has just put a pair of Eastern Box Turtles in their roof garden. Eastern Box Turtles are one of the only two species of Box Turtle found in the United States.  They arrived from Las Vegas (Eastern Box Turtles are native to New York so who knows that they're doing in Vegas), one male and one female, and  were promptly introduced to their new garden penthouse.  The male (who has yet to be named) began making his way around the wooden planks along the perimeter of the space.  The female is not as curious and promptly burrowed herself into the growing medium near the apiary, no doubt to escape the heat of the day.
Eastern Box turtles are very active and will escape from backyards in a heartbeat.  There is no chance that these turtles can escape (or worse, fall to the ground) because of the 4 foot cement wall which encloses the garden.
The roof garden is about 150 square feet with a healthy crop of several variety of sedum, lambs ear, lavender, and butterfly bushes.   A large copper dish was put in the corner of the garden and filled with water because no penthouse is complete without a swimming pool.
There are a fair amount of worms and bees in the garden for the turtles to eat, however, a bag of crickets was purchased and let loose in the garden just in case the turtles don't like their other options.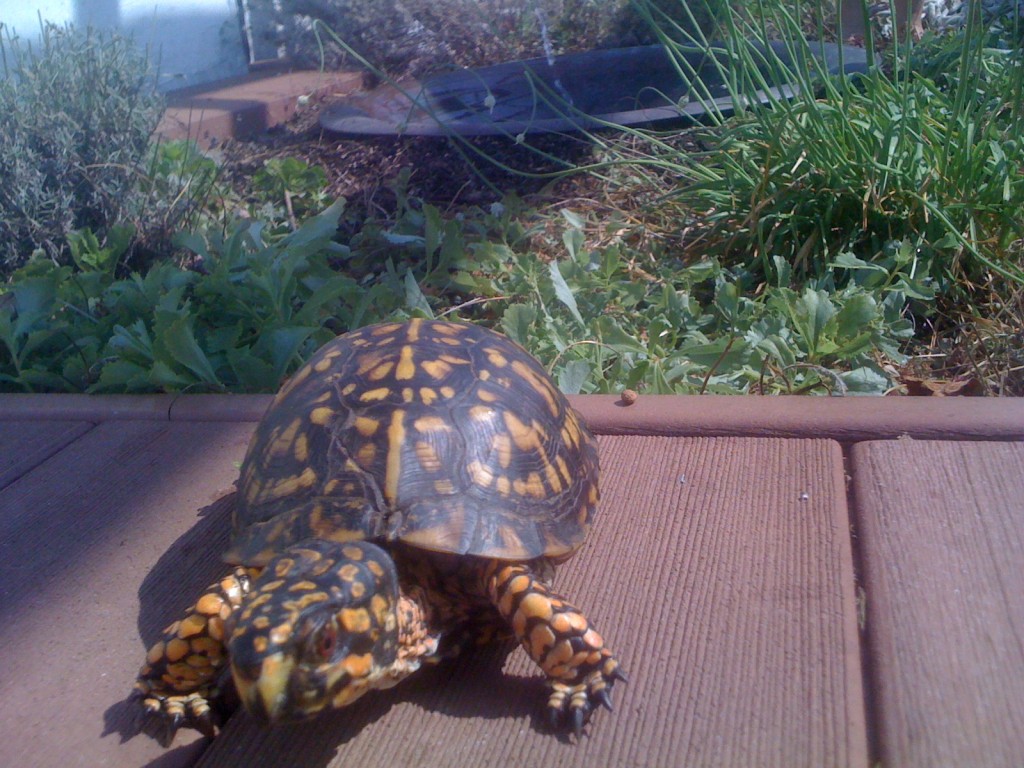 Eastern Box turtle exploring his new home.  Photo ©Heather Shimmin