Roof Explorer's Guide:101 New York City Rooftops
by Leslie Adatto and Heather Shimmin, Contributing Photographer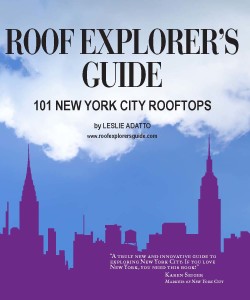 Shortly after I moved to New York, I met Leslie Adatto at a rooftop garden party.  I had just moved here from London and was finishing up my Master's thesis on London green roofs. We bonded over our love of rooftops and living in the cities we love (New York and London). She told me about this amazing rooftop book she was working on and asked if I'd like to help make it happen – and voilà! Roof Explorer's Guide: 101 New York City Rooftops was born.
This unique New York City Guide Book was created with both tourists and locals in mind.  Even the most seasoned New Yorkers will be introduced to new and hidden gems.  The book explores rooftop bars and restaurants, hotels, parks, theatres, farms, and sports venues.  One of my favourite spaces is Gallow Green, a bar and restaurant atop the McKittrick Hotel near the High Line (27th between 10th and 11th Avenues). I think it is the most enchanting place I have ever been in the city, possibly anywhere.  Imagined by the set designer, Gallow Green has an ethereal, magical touch that other rooftops spaces lack.  Have a tipple on a swing next to a lavender plant or interact with one of the hotel's "residents."  Dinner at the Heath, although not on the roof, is a delight, as well.  I cannot say enough good things about this place.
In the back, are suggested itineraries both on foot and on bike.  Leslie and I will be offering guided New York City rooftop tours soon.
Find the book on Amazon, iTunes, or Google Play.