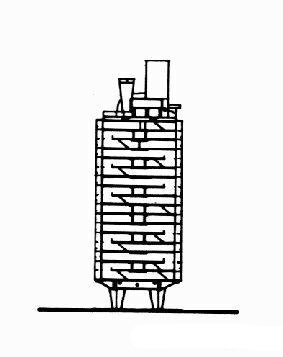 The steamship is the first stage in the realization of a world organized according to the new spirit.
– Le Corbusier
In Marseilles, overlooking a tree-lined boulevard to the east and the Mediterranean Sea to the west is the Unité d'Habitation, a social housing block completed in 1952 in response to France's housing shortage after the Second World War. Nothing on such a scale had ever been attempted before.  It could house 1,600 people – a small town.  It has been called a masterpiece, a model for tower blocks around the world, a present-day Utopia, a "vertical garden city." The Unité is to Le Corbusier what St Paul's Cathedral is to Wren.
In 1941 the Minister of Reconstruction called Le Corbusier into his office and asked him what projects he was working on:
None whatsoever, Le Corbusier replied.
How would you like to design one your "omnihouses" for ten people down in Marseilles?
By all means.  On one condition.  I must be freed of all building regulations in force.
Right. 
No rule, law, zoning regulation, or tradition restricted Le Corbusier when he designed the Unité d'Habitation in Marseilles.  He was free to do as he pleased.  The project can be purely assessed, looking at elements and design choices with scrutiny, all leading back directly to Le Corbusier's philosophies and intentions, without the clouded vision of politics or regulations.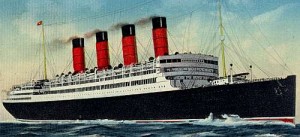 Figure 1 The Aquitania, which carries some 3,600 persons, in relation to various large-scale buildings.
Le Corbusier was fascinated with ocean liners.  He saw them as the symbol of 20th century design, an engineering feat, the epitome of luxury and hospitality, an exemplar of floating technology, the perfect machine for living.  Steamships are a harmonious fusion of private and communal space, of form and function, of design and technology, of man and machine.
Le Corbusier was a frequent steamship passenger, traveling aboard the Lutétia, the Patris II, and the Normandie, unquestionably the most sumptuous passenger ship ever built.  The Normandie had a profound impact on how Le Corbusier viewed architecture.  He was intrigued by a ship's ability to be both functional and beautiful.  Ocean liners were self-contained cities wrapped in a sleek and elegant package.  To a modernist architect, "ocean liners demonstrated the potential of highly-serviced mega structures to provide ideal living conditions."
The 1925 Paris Exposition marked a great turning point in European design philosophy where the historicist tradition of ornamentation as an expression of affluence, style, and wealth was challenged.  A sense of grandeur and magnificence could be achieved through sleek, uninterrupted lines, vibrant color, textures, and patterns, rather than through cornices, pediments, dados, and columns.  This minimalistic approach in ocean liner design brilliantly captured the spirit of the era where design was longer bound to the past. It is no surprise that steamship design philosophy spoke directly to Le Corbusier.  Not only did ocean liners influence his design of the Unité, but they were also an inspiration for his Cinq Points de l'Architecture Moderne: pilotis, an open plan, the free façade, horizontal windows, and the flat roof, each found in ocean liner design.
Pilotis elevate a building, giving the appearance of the structure floating above the ground.  This same effect is achieved in ships. The hull of most ships is painted black whilst the middle and upper decks are painted white, creating a similar illusion that the bulk of the ship is not touching the water, but lightly hovering over the ocean waves.
An Open Plan, obtained by non-load bearing walls, provides flexibility in the floor plan, producing clean, uncluttered spaces. Rooms and promenades can be designed around windows, maximizing daylight and panoramic views.  Long access corridors can be moved to the centre of the structure. Rooms for living and socializing can be placed near natural light or away from noisy bars and restaurants.
The Free Façade allows for thin exterior walls and flexibly in materials.  Think, cumbersome walls are no longer required to support a structure. Thin, smooth surfaces can be used, creating the illusion of light and slender structures.  This effect is achieved in ships: massive vessels weighing thousand of tonnes appear lightweight and graceful.
Horizontal Windows break up a building's verticality, especially tall ones like the Unité d'Habitation. The horizontality of Le Corbusier's fenestration mimics that of a ship's portholes and gallery windows.
A Flat Roof for a garden, terrace, or solarium, is a place to breathe in the air and enjoy the sunshine.  Like the deck of a ship, it is the hub of social activity, entertainment, and enjoyment.
Le Corbusier set out to design a tower block that was a "magisterial work of architecture, the product of rigor, grandeur, nobility, happiness, and elegance," all qualities present in a steamship. Le Corbusier was interested in using the ocean liner as a model for high-density living. Rather than a "vertical city in the sky," the Unité is an Ocean Liner on land.
Like an ocean liner, the Unité is a small, self-contained city 12 storeys high complete with shops, supermarkets, barbers, nurseries, restaurants, a cinema, and roof terrace.  The Unité is a healthy balance of public and private spaces, personal and community interaction, man and machine.
"Railroads and ocean liners are relevantly different from the state coach and from the sailing ship, not merely in construction and efficiency but in the very feel of the user, making travel a different experience altogether, something one may do for its own sake.  Airplanes finally, leave behind any similarity with former conveyances, except the purpose of getting from here to there, with no experience of what lies in between."  Traveling on an ocean liner is joy in and of itself; it is the journey, not the destination that makes steamship travel so appealing.  Le Corbusier applied a similar idea to the Unité: the experience of living, the journey through life, is what matters.  Every design element of the tower block was meant to make live easier, more enjoyable, and more like a romantic journey on an ocean liner.
The roof terrace is one of the most important features of the Unité.  Le Corbusier wanted to create a place where all citizens, regardless of class, were guaranteed the "joys of light, space, and greenery."  The roof terrace provides a place for the residents to eat, exercise, relax, and gather together.  The sculptured roof ventilators resemble a ship's smoke stacks.  Seeing the swimming pool, exercise track, and concrete seats, residents might easily mistake their roof for the deck of a ship.
The architectural importance of the Unité d'Habitation is not just its design, but also its concept. It offers all of the amenities of a luxury cruiser.  Everyone living in the complex has a right to enjoy the roof, the shops, and a quiet flat encased in soundproofed walls.  The Unité is not just a place to lay one's head at night; it is vessel that carries her residents through life.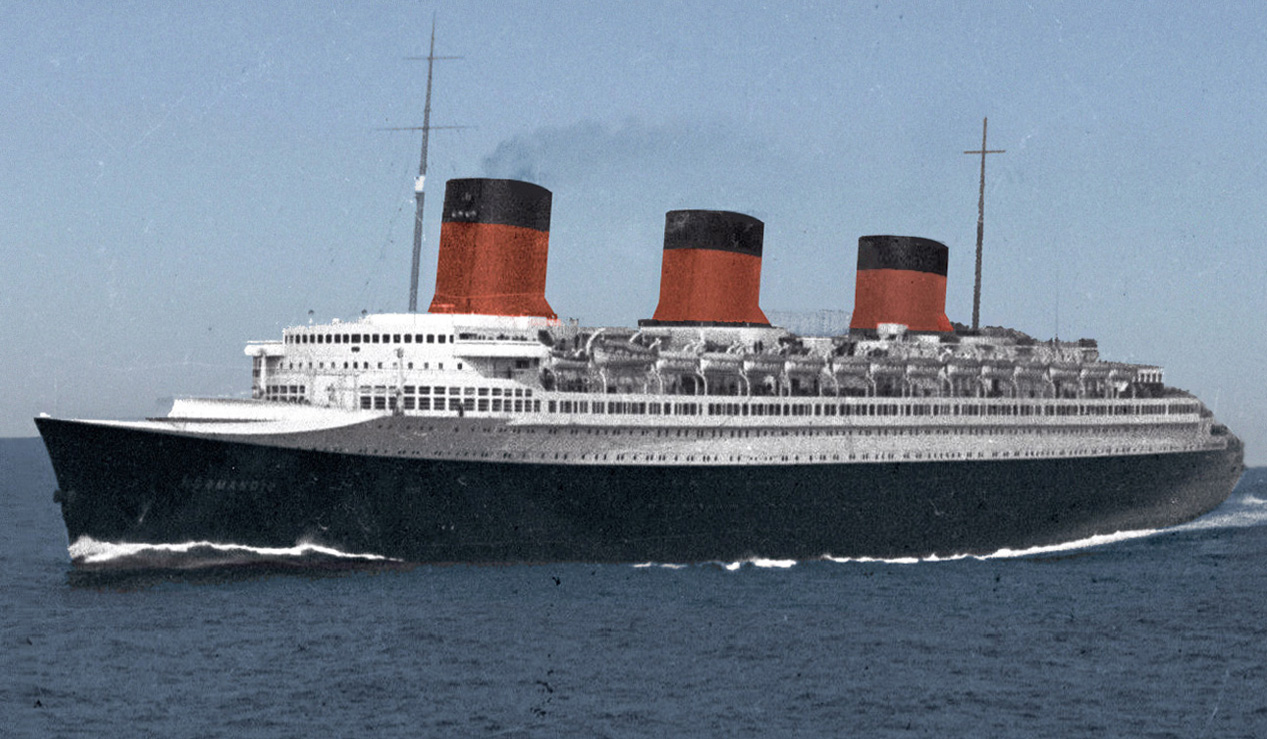 Figure 2: The Normandie with her dichromic hull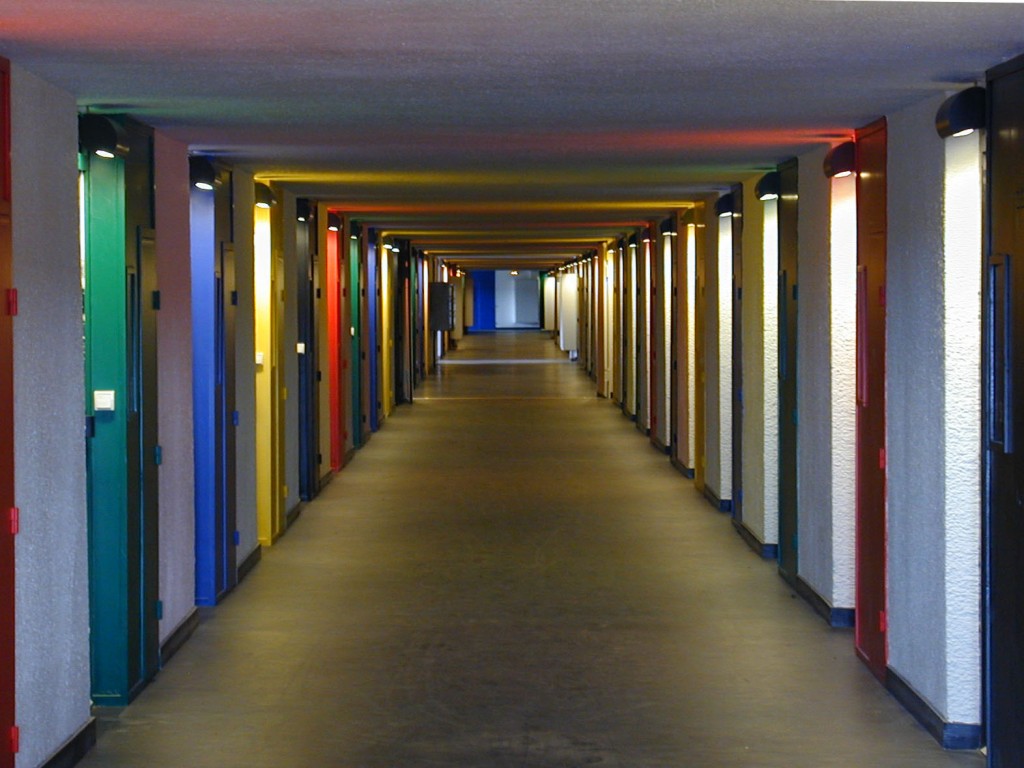 Figure 3: Internal corridor of the Unité mimicking that of an ocean liner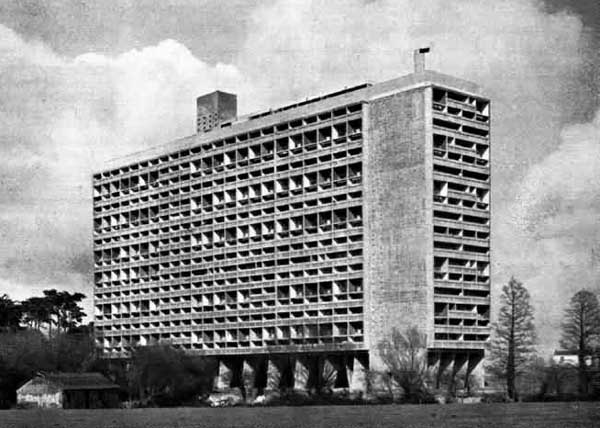 Figure 4: Rows and rows of horizontal fenestration resembling that of a ship, especially todays modern cruise ships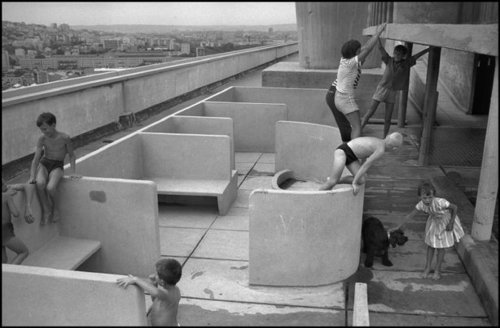 Figure 5: The Creche on the roof of the Unite d'Habitation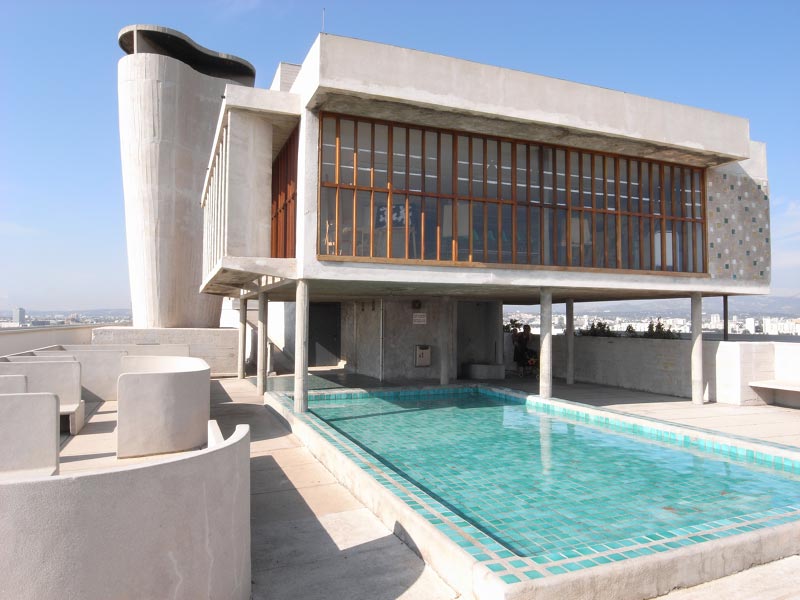 Figure 6: The roof terrace of the Unité looking very much like the deck of an ocean liner, with its pool and smokestack ventilation shafts
Figure 7: Computer generated model of the Unité by MRVDV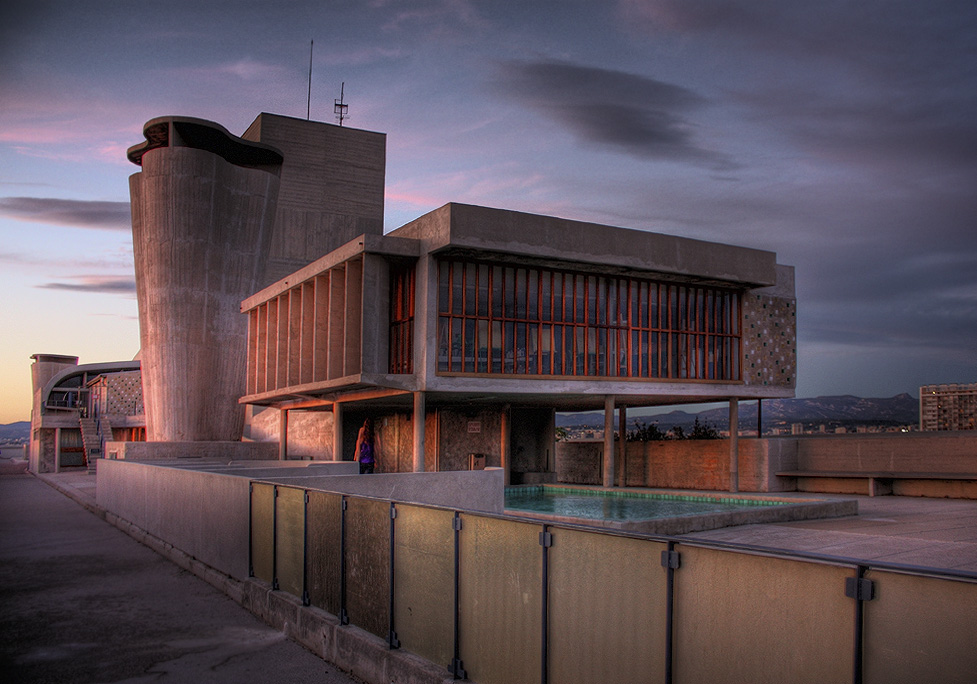 Figure 8: Roof terrace of the Unité
BOOK RECOMMENDATIONS ON LE CORBUSIER
REFERENCES
Bar, Ellin.  "MVRDV & Le Corbusier and the Ultimate Inspirational Roof Terrace." Someone Has Built It Before.  n.d. Web. 19 February 2012.          <http://archidialog.com/2011/12/05/mvrdv-le- corbusier-and-the-ultimate-inspirational-roof-terrace/>.
Benton, Tim.  The Rhetoric of Modernism.  Basil: Bürkhäuser, 2009.  Print.
Buxton, Pamela.  "Inspiration: Unite d'Habitation, France; Architect (1946-52): Le Corbusier." Building Design. 2 December 2011: 14-17. Print.
Curtis, J R William.  Le Corbusier: Ideas and Forms. Oxford: Phaidon Limited Press, 1985.  Print.
Feigel, Lara and Harris, Alexandra. Modernism on Sea: Art and Culture at the British Seaside. Peter Lange, Ltd.  Oxfordshire: 2009. Print
Howard, Seymour.  "Living with Le Corbusier."  Progressive Journal.  November 1970: 90-95.  Print.
Jencks, Charles.  Le Corbusier and the Tragic View of Architecture.  Harmondsworth:  Penguin Book Ltd, 1987.  Print.
Kaplan, David M.  Readings in the Philosophy of Technology.  Rowman and Littlefield Publishers.  Oxford: 2004. Print.
Knoll, Andrew.  "AD Classics: Unite d' Habitation / Le Corbusier" Arch Daily. 5 November 2011.  Web.  18 February 2012. <http://www.archdaily.com/85971/ad-classics-unite-d-habitation- le-corbusier/>.
Le Corbusier.  The Marseilles Block.  London: Harvill Press, 1953.  Print.
Maxtone-Graham, John. The Only Way to Cross. New York: Macmillan, 1972. Print.
Medina, Samuel. "Fire Sweeps Over Le Corbusier's Unité d'Habitation in Marseilles." Architizer. 10 February 2012.  Web. 19 February 2012. <http://www.architizer.com /en_us/blog/dyn/38735/f ire-sweeps-over-le-corbusiers-unite-dhabitation-in-marseilles/>.
Nuttgens, Patrick.  Understanding Modern Architecture.  London: Unwin Hyman, 1988.
Spring, Martin. "Welcome to the Machine." Building. September 2006: 44-48. Print.
"Unité d'Habitation, Marseille, France, 1945." Foundation le Corbusier.  n.d. Web. 17 February 2012. <http://www.fondationlecorbusier.fr/corbuweb/morpheus.aspx?sysId=13&IrisObject _sort_string1%20&itemCount=78&sysPa rentName=&sysParentId=64>.
"Unité d'habitation (Cité Radieuse) Le Corbusier 1952." Galinsky. n.d. Web.  19 February 2012. <http://www.galinsky.com/buildings/marseille/>.
"Unité d'Habitation." Great Buildings.  n.d. Web. 19 February 2012. http://www.great buildings.com/build ing s/Unite_d_Habitation.html>.
Von Moos, Stanislaus.  Le Corbusier Elements of a Synthesis. 010 Publishers.  Rotterdam: 2009. Print.
Wealleans, Anne. Designing Liners: A History of Interior Design Afloat.  Routledge.  Abingdon: 2006. Print.