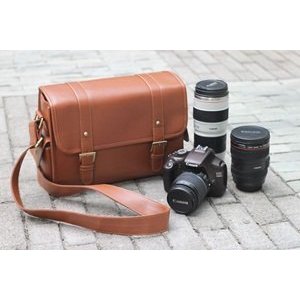 Now that you've plunked down the cash for a digital camera, you need to protect that investment by getting a suitable camera bag. Your camera bag needs to be sturdy, comfortable to carry, secure, and large enough to accommodate your camera and its accessories.
Camera bags come in all sorts of shapes, sizes, and materials. The type of photography you will be doing will dictate the kind of camera bag that will be the most suitable. For example, if you are going to be doing a lot of traveling in questionable weather conditions, you're going to need a strong, water-proof material which is easy to carry. If you're just doing casual snapshots at family gatherings, then you should look for something compact and lightweight.
First and foremost, you need a camera bag which fits your camera type and model. It needs to accommodate your lenses and keep them from crashing into each other causing damage to themselves and your camera. Extra compartments are great because they can hold extra batteries, filters, lens cleaner, memory cards, and anything else you might need. When you've found a bag that is the right size, the right shape, and the right material, the deciding factor is comfort. I have been on too many photo shoots with a crappy camera bag which hurts my shoulder or is just plain awkward to carry. One way to avoid buyer's remorse is to take your camera gear with you when bag hunting. Put it in a bag, try it on, and see how it feels.
Something else to look at when bag shopping is the zipper. Bags with a big tooth zipper are less likely to jam with dirt and debris. Some have a weather guard to keep out the rain.
The actual brand you choose is not as important as choosing a known brand like LowePro, Domke, Crumpler, Sony, Samsonite, to name a few. All are great brands and are known for their quality bags. Since every brands fits differently, it's good to look at multiple brands before you commit.
The final thing to keep in mind is that it must fit into an airplane's overhead luggage compartment. You absolutely do not want to check your camera bag, even if it's in a hard case. You risk equipment damage, not to mention theft. Also, with the rise in fuel costs, airlines are charging obscenely high rates for extra bags, odd-shaped parcels, and overweight items.
CAMERA BAG RECOMMENDATIONS: