Saying Thank You to Volunteers
A few weeks ago, Film Biz Recycling, the Goodwill of the film industry, hosted a volunteer appreciation party.  I came along to socialize, of course, and to document the event.  I thought some time lapse video footage would be a fun way to do it.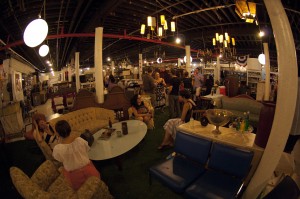 Film Biz Recycling Volunteer thank you party.
Photo ©Heather Shimmin
But before I delve into the production details, a little more about the organisation…Film Biz Recycling is a place where the film industry can donate props, costumes, raw materials, and sets after production which is then either donated to other charitable organisations that Film Biz has relationships with, or is kept and sold or rented back to the film industry, students, and the general public.  Film Biz Recycling diverts thousands of pounds of materials from landfills every year.  It is a wonderful organisation and a great resource for filmmakers and regular folks like myself.  I've got my eye out for '50s kitchen table and chairs.  It's all a matter of time.  Their inventory changes every week!
Time Lapse Photography
To document the soirée, I set my camera up in several locations (I was without a tripod so I had to be cleaver in using tables, desks, and other stable pieces of furniture on which to leave my camera) and put my camera on autopilot, if you will.  Each segment is about 110 images taken every 2-5 seconds.  I then used Quicktime to create the time lapse video and then iMovie to put it all together. (see my blogpost on Time Lapse Photography for step by step instructions on how to create a time lapse movie of your own.)
Here is the final result.