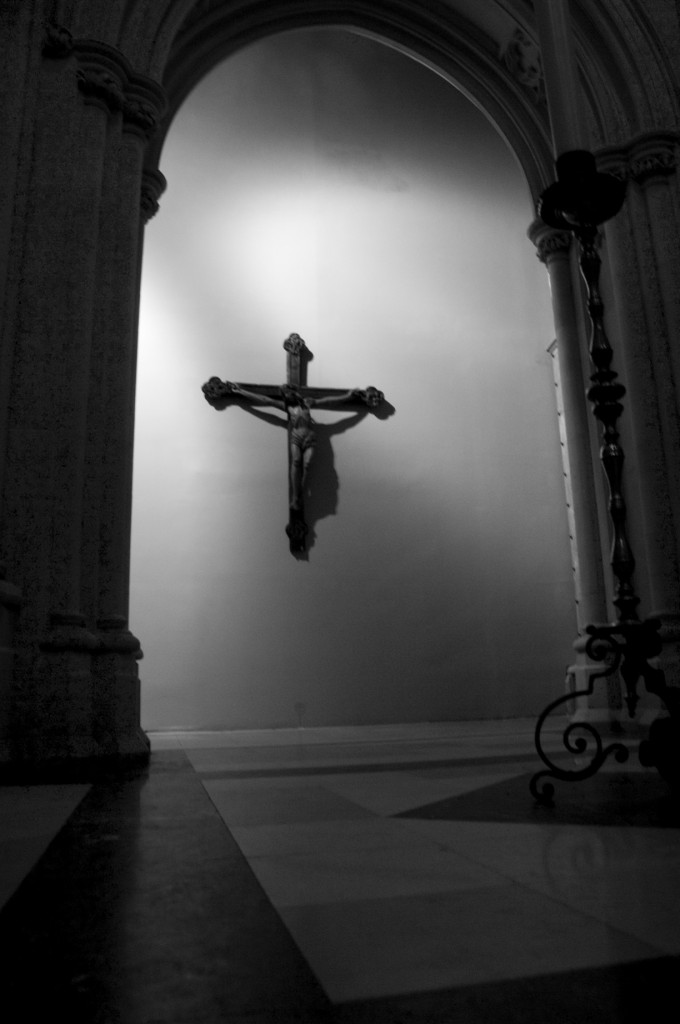 Crucifix Inside the Cathedral of St John the Divine, New York City
Photo ©Heather Shimmin
The final stage in the digital imaging process is post-production, the stuff that happens after the photo shoot. This entails editing, touch-up, and storage of all these precious images.
EDIT, EDIT, EDIT
If location, location, location are the three rules of real estate, then edit, edit, edit are the three rules of post-production. You don't not have to save and print every picture you take. You must go through your images with a sharp, critical eye. This becomes an even more important issue when you invite friends over for a slide show. Honey, no one wants to sit through 1,000 images of your family vacation to Disneyland, no matter how cute your kids are.
PHOTO EDITING AND TOUCH-UP
Few images come out perfect straight from the camera. They may need to be color corrected (especially if you ignored my bit on white balance) or have a zit taken off your teenage daughter's face because it's so embarrassing. Sooner or later, you'll have to invest both your time and your money into some sort of photo editing software. The pros use Adobe Photoshop, but there are many other less-complicated options. Adobe Elements gets the best reviews followed by Corel Paint Shop Pro. Google's Picassa has limited editing tools but is great for storing and sharing your images.
FILE STORAGE AND ORGANIZATION
All of these Disneyland photos have got to go some place, but before you shove them into a file folder you'll never find again, you have to do a few things:
1.Rename the files. Batch renaming is simple and automated. You should give the files a name which you can easily identify with at a later time (like tomorrow or two years from now).  Don't leave the default IMG_998 as the file name because this type of file name is useless.
2.Fill out the meta data as completely as possible. Meta data has so many uses and is very valuable yet no one bothers to do it. There are fields for keywords, location, copyright, photographer, all of which assist in file searching both on your computer and the web.
3.Create a file system and stick to it, whether that be by location, date, or subject matter, it's up to you. I do it by subject matter – people, places, things – and then sub folders by shoot description or project. There are also software programs out there to help you like Lightbox and Aperture.
4.Backup your files. Buy an external hard drive and backup your files frequently. I do it every Sunday. My hard drive has failed twice and I lost a lot of images because I didn't back them up.
Digital photography is both a blessing and a curse. You no loner have the cost of film, allowing you to shoot many more images that you normally would. The curse is that you now have many more images than you normally would. By preparing yourself in pre-production, you arm yourself with the tools to take better images in production and gain a better understanding of what you can do technically to have color balanced shots, correct exposure, and use the right settings to capture the lead guitarist on stage, rather than having a blurred, unrecognizable blob. You can bring a critical eye to your images and organize them in a way in which they can be found at a later time and share the best of your images with those around you.
BOOKS ON PHOTOGRAPHY I RECOMMEND: