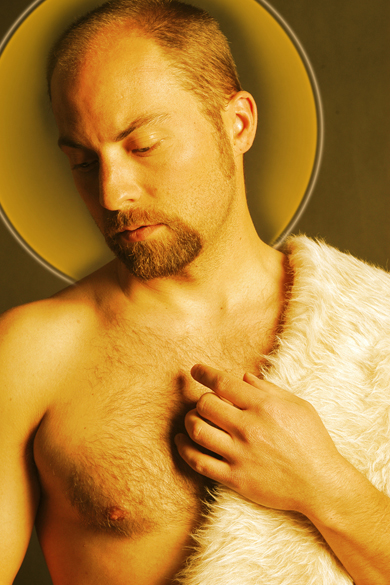 John the Baptist
Photo ©Heather Shimmin
PART TWO: PRODUCTION
Part two of this series of three articles on digital camera tips for beginners focuses on the production stage of photography, the actual shooting.  Now that you're more comfortable understanding the controls and functions of your camera (having read the manual and prepared yourself for the photo shoot) you can now focus on the production, or photo shoot.
Digital cameras differ from film in that you now have to tell the camera what type of "film" you are using. Are you shooting outside? Are you in a low-light situation? What is the light source? These were decisions you made with your selection of film, whether you knew it or not. Now you have to answer all of these questions and tell the camera what settings to use.  Cameras are smart but not infallible. Automatic mode does not always work. You need to have an understanding of film speed, light source, and color balance in order to get the most out of your digital camera.


FILM SPEED 
Film speed, also referred to as ISO, tells the camera the type of lighting situation you will be shooting in. Low ISOs such as 100 or 200, require more light for a correct exposure. Use low numbers when shooting in lots of light, like at the beach in full sun. The higher the ISO the less amount of light required for a correct exposure. Use an ISO of 800 or 1600 when shooting in low-light situations like a rock concert. Keep in mind, the when using an ISO of 800 or higher (this varies depending on the camera) the more noise appears in your image.
BRACKETING
Bracketing is when you shoot several frames in sequence each with a slightly different exposure. This helps you dial in a correct exposure when shooting it difficult lighting situations, such as snow scenes, indoor lighting, and nighttime shots. Most cameras have a bracketing mode and automatically make an exposure adjustment for you. This is a wonderfully useful tool.
WHITE BALANCE
White balance is an adjustment made to correct colors, especially neutrals, under different lighting scenarios. Light is not universal. Every type of light photographs differently because light burns at different temperatures which record differently on film. Daylight (sunshine and strobes) are the cleanest. Tungsten, indoor, and incandescent lights have a orange tint to them. You've probably noticed your indoor images are orange when the flash doesn't go off. Fluorescents are typically green, and shade is a cool blue. Every time you change light sources – sunlight to lamp light – you need to manually change the white balance. Again, automatic mode is not always the best.


FILE FORMAT
Always shoot using your camera's largest file size setting. You can always resize later to a smaller size but you can't do the reverse, saving it as a larger file later. RAW is the very best file format. It is the equivalent to a film negative. You can make changes later on your computer and still have the capability to go back to the original. They are large files, but well worth it. Once you start shooting in RAW, you'll never go back. It is superior to any other file type. 
The standard default setting in most cameras is jpeg. This is unfortunate because jpeg is the worst possible file format. Jpeg is a compressed file. The camera (or the computer) throws out information in order to compress the image and keep the file size down. Compression is information lost. And every time you save a .jpg file you lose information. NEVER use jpeg. If that is your only in-camera option, after downloading your images re-save them immediately as a TIFF, PSD, or PNG file, all universally read file types. 
Next, we'll take a look at what to do with all of those images and how to keep your files organized.
PHOTOGRAPHY BOOKS I RECOMMEND: