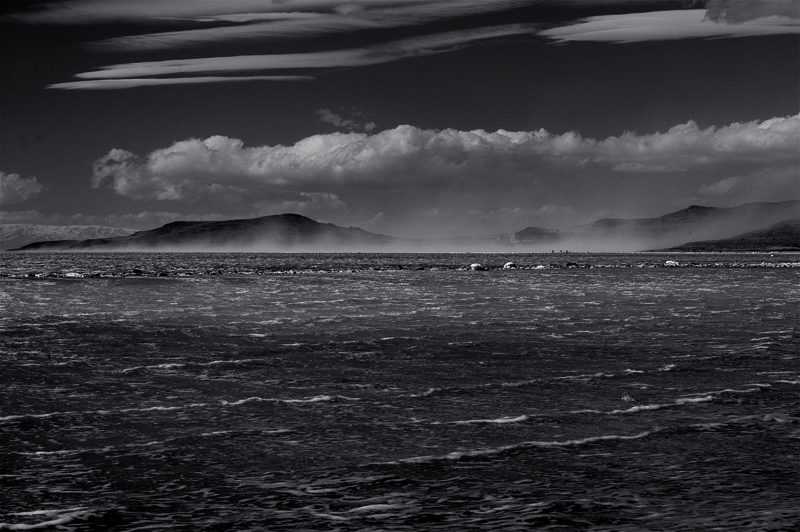 Salt Flat Study No. 17.  
Photo ©Heather Shimmin
Black and white imagery has a wonderful aesthetic. Maybe because we are used to seeing the world in color we like the uniqueness of seeing something without it. Black and white images somehow transcend the snapshot in a way that color never can. Here are some suggestions on how you can improve your black and white photographs.
SHOOT IN COLOR
Shooting in color gives you the flexibility of having that image in color as well as black and white. Shooting in black and white mode limits you to black and white images only. Sometimes the image just doesn't turn out as well as you thought it would in black and white and it's nice to be able to switch back to color.
SHOOT IN RAW
You should always shoot in RAW. Not just when you're planning on shooting in black and white but across the board. RAW is your digital negative to which you can always revert. The changes you make in the RAW adjustment window do not alter the pixels or damage your photo. That can't be said for edits done in Photoshop. It is simple to convert and automate the process of converting your color images into black and white ones in RAW. If you current digital camera does not shoot RAW, make sure your next one does.
USE A LOW ISO
As a rule of thumb, you should be using the lowest possible ISO your color photography, but it is even more important when shooting in black and white because any noise in the photograph will be more noticeable.
COMPOSE THE SHOT
Composition needs to be carefully pondered and deliberate. Unlike color photography, black and white has no color to lead your eye around the image or to create a point of interest. It is all about shapes, lines, and textures.
LOOK FOR CONTRAST
Black and white imagery is obviously not about color. It is about shapes, lines, textures, movement, and all the other elements and principles of art. But most importantly, it is about contrast. Use contrast to tell your audience what's important and what's not. High contrast will immediately make your black and white photography more compelling to look at.
EXPLORE COLOR FILTERS
While using a color filter on your digital camera is perfectly acceptable, it's not necessary. Photoshop has color filter options in both the camera RAW and under the Filters drop down menu in  Photoshop. Color filters change the tones in the photograph to produce different results. For example, the colors green and red are the same tone in black and white. So if you are photographing a red rose, there will not be any difference in tone between the rose and the stem. Using a color filter will change the tones in the image to distinguish between the red and the green.
Black and white photography is my preferred medium. It has a way of elevating an image to higher level – if it's done right. Two of my favorite black and white photographers are Michael Kenna and Rodney Smith. Both of these photographers understand that shooting black and white is an art and a skill which needs to be studied and practiced.
BOOKS I RECOMMEND: