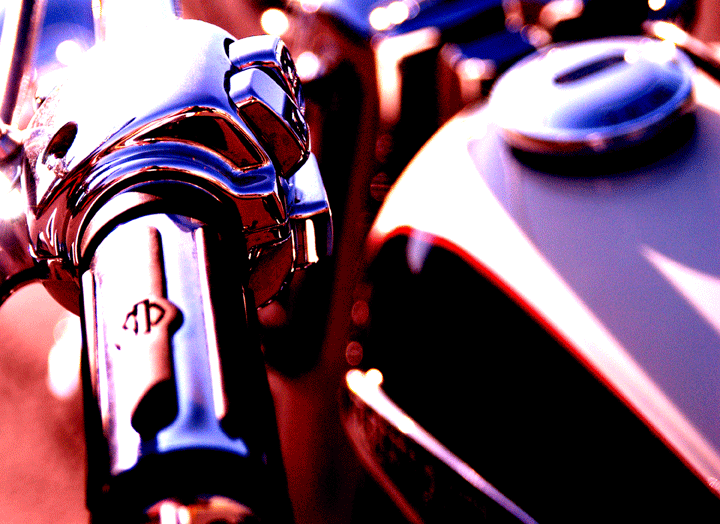 Harley Davidson Road King Detail, Cross Processed
Photo ©Heather Shimmin
I'm sitting at the coffee shop on a Sunday morning in a leather Manhattan chair. My soy latte is cooling on the end table to my left. The Shins are playing in the background as I wave to a friend who just walked in the door. I'm working in Photoshop, removing a few pieces of lint from the model's black blazer when my mouse freezes. I can't force quit the program. I can't ctrl+alt+del. I hold down the power button for several seconds to shut off the machine. I wait 15 seconds and turn it back on. It seems to be booting up just fine. Then, the Blue Screen of Death appears. I'm not too worried. I reboot. Blue screen. I reboot. Blue screen. I'm sweating now. I have 6 photo shoots on there which have not been delivered to the client. I don't have a backup of my contacts. I have dozens of emails which have vital information from my job searches. I haven't backed up for months.
Gone. Everything was gone.
I had to wipe my hard drive clean and rebuild my laptop for the third time that year. I lost data, images, a portion of my professional network, all of which I had no way of retrieving. I still don't have them.
There is no excuse for not backing up. It's quite painless, really. I make it a point to not only backup on an external hard drive, but to store information in multiple places. There are many places online to keep a second or even third copy of your data. Here are some of my favorites:
GOOGLE DRIVE is a great place to store docs, spreadsheets, and other text documents. It's free, and you can share the document with others.
GOOGLE PICASSA makes organizing, editing, storing, and sharing your photos simple. You can make photo albums, slide shows, add tags, and share your pics effortlessly (I should get a kickback from Google for all my promoting efforts).
FLICKR and FACEBOOK are other options for backing up, albeit, the space allotted you is limited. I use these sites for portfolio pieces.
YAHOO, GMAIL or who ever hosts your email has their own platform for adding contacts, their phone numbers, email addresses, and other vital information. That way, when, not if, your computer crashes, you won't lose all of that valuable data.