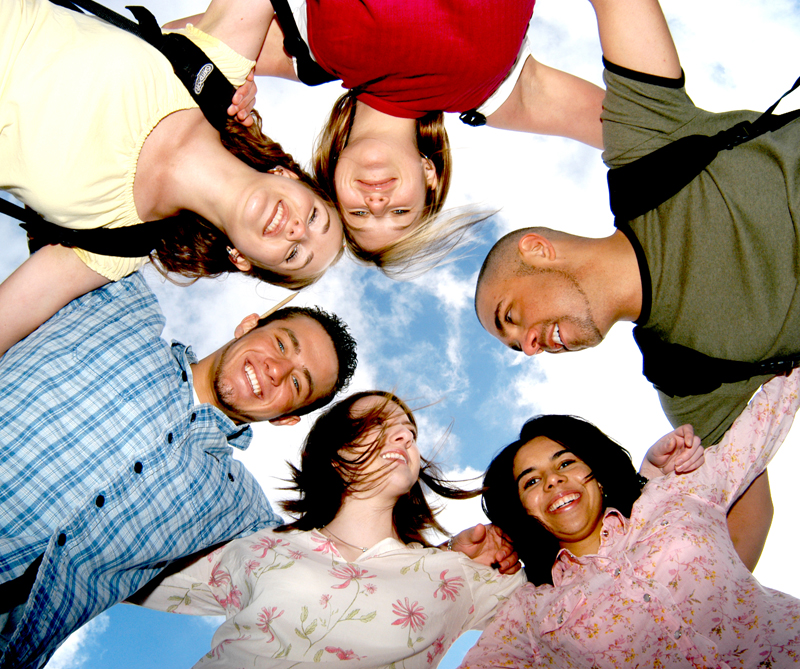 Catalogue Cover for Fall Class Schedule
Client: Utah Valley University
Photo ©Heather Shimmin
1. Your image needs work
Since the advent of the camera, photographers have spent hours in the darkroom tweaking their images – dodging and burning, cropping, adding contrast – in an attempt to make them as close to perfect (in their eyes) as possible. Today, this means spending time in the digital darkroom, aka, Photoshop. With digital imagery, photographs are not only expected to be tweaked, they are expected to be perfect. Things like a piece of garbage on the lawn or a blemish on the subject's face, are unacceptable. This does not mean, however, that the image should be manipulated and tweaked beyond recognition. It should not look manipulated or fake. In fact, this is a sign of a poor photographer. The basics, such as levels, curves, and contrast, need to be understood and applied appropriately, in a way which looks natural. The whole point is to enhance the photograph, not destroy it.
2. No logos
No company names, brand names, logos, or any recognizable portion of the them are allowed in stock photography. The corner of the Nike swish, the three Addidas stripes, a Village Inn sign in the background – none of it is permitted in stock.
The reason for this is that a business who uses a stock image could claim that another company supports their product or campaign. For instance, if the man in the photograph were wearing a pair of Nike tennis shoes, it could be said that Nike endorses or supports this company and/or product. Any recognizable logo has to go.
This is an extreme challenge when shooting. Clothing, sporting equipment, bicycles, shoes, watches – everything has a brand name slapped on it. Make it very clear to the model before the shoot that, if they are supplying their own wardrobe, nothing can have a visible logo on it. Every prop used must be logo-free, or turned at an angle where the logo isn't showing, otherwise, the image will not be accepted. The photographer will then
have to spend hours and hours removing the labels in Photoshop. And even then, some just aren't possible to remove.
3. Edit, edit, edit
If the three rules of real estate are location, location, location, then the three rules for stock photography are edit, edit, edit.
The ability to look at a photograph with a critical eye is crucial. It is a learned skill, an ability which comes from not only only evaluating your own work, but the work of others. Photographers for National Geographic will shoot 10,000 images on assignment when only 25 or 30 images will be selected for the article – and they're pros.
When starting out, ask for a second opinion, preferably from another photographer (a professional photographer, not a hobbyist – there's a big difference) before you start submitting images. Ask why the photographer chose certain images and not others. Understanding which elements make an image a failure or success is invaluable for when you go out and shoot again, capitalizing on what works and avoiding what doesn't. The capability of selecting the best images is the key to success when submitting images to a stock library. You'll save a lot of time and frustration by being very selective before you begin the submission process.
4. Be patient
Sales from shooting stock imagery is much like farming: seeds are planted and a certain amount of time needs to pass before the crop can be harvested. Some crops can be harvested right away, such as tomatoes and peas, others take years, even decades, like Christmas trees, before they are ready.
A crop will never be ready if it isn't ever planted. Imagery which is never submitted will never be sold, much less imagery which is never shot. Like a farmer, the stock photographer needs to plan what to shoot and when, and understand that what is sewn may not be ready to harvest immediately.
5. Sign here, please
There are myriad rules and exceptions to the rules when it comes to model releases. When the image is used for informational, educational, or instructional purposes, a release is not required. Nor is one required for fine works of art. However, when it comes to stock, a model release is required for every recognizable face in the image, as well as any recognizable piece of property, which includes buildings (both commercial and residential), vehicles, and pets. To be safe, always have your models and property owners sign a release. That way, you are able to use the image for stock, even if you didn't plan on it when you shot it.
6. Understand the terms of the agreement
Before signing on the dotted line, it is imperative that you read through the entire contract and understand the terms of agreement between you and the stock photography company. Every company is different and there is no such thing as a "general contract." Are you required to be exclusive with this company? What is your percentage? When can you get paid? Some companies require you earn a certain amount before they'll cut you a check. If you are not happy with the terms, you could keep shopping for a company which suits you better.
7. Be a tourist in your home town
It's easy to become jaded by your surroundings, seeing the same things day in and day out. The longer you live in the same place, the harder it is to find something interesting to shoot. But there are all sorts of jewels waiting to be discovered. Take a different route home from the grocery store. Visit places you recommend to out-of-state visitors. Pick up a guide book on your state. Plan a weekend trip to visit other cities or towns which look interesting to you. You don't have to go to Paris to have something worthwhile to photograph. Take Project Runway mentor and fashion icon Tim Gunn's advice and "make it work."
BOOKS ON STOCK PHOTOGRAPHY I RECOMMEND: